NON-RESIDENTS ADMISSION:
If you are an international student interested in studying at BINUS UNIVERSITY, here are some simple steps to apply to us: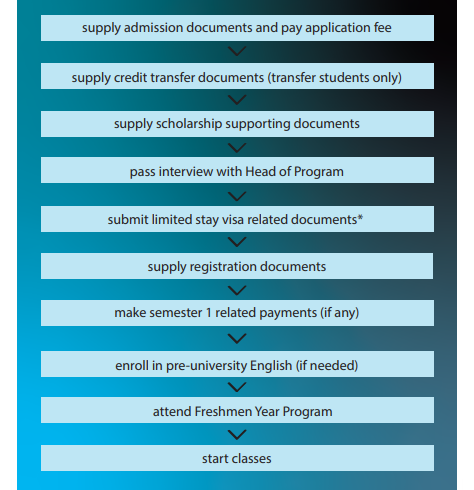 *more information on visa is available on our visa section here.
Our admission is currently done through email. If you are interested in applying to us, you can send your application by email to global@binus.edu, sfirdaus@binus.edu, or felicia.margaretha@binus.edu.

RESIDENTS ADMISSION:
If you are foreigner currently holding ITAS/ITAP, or a previous student in BINUS School, please contact us by email to global@binus.edu for admission information.
ADMISSION REQUIREMENTS:
High School Graduation – Grade 12 / A Level Certificate / IB Diploma (with relevant background)
English**: TOEFL 550 / iBT 80 / IELTS 6.0/ equivalent
Online aptitude test, interview, and essay review result
** Alternative proof is English as language of instruction in high-school. We also offer our own online English test if you haven't got your English language proficiency tests (contact us for more information on our online English test procedure).
Students in undergraduate programs with TOEFL scores betwen 450-549/equivalent can enroll after completing 150 hours of BINUS pre-university English preparatory course.
APPLICATION DOCUMENTS:
Filled Admission Form
Letters of Statement*

Applicants Compliance to Regulations
Applicants K12 Background Education
Applicants Financial Competency – to be submitted along Financial Proof of Saving – (USD $3000 for Scholarship applicants or $4000 for fee-paying applicants)

Transcripts grades 9  – 12
Senior High National Exam Certificate/ High School Diploma
English Proficiency Proof – (Unless Language of Instruction in High School Was English)
CV – Curriculum Vitae
Motivation Letter – Explaining Why You Are Interested to Join BINUS University and Why You Are the Best Candidate
Color copy of passport personal page (valid for the full duration of study)
Birth Certificate
ID photograph 4×6 cm (300 kb; electronic version)
* Statements templates are provided by BINUS.
An application fee of USD60 is applicable.
CREDIT TRANSFER
We accept students who wish to do a credit transfer. To check your eligibility for credit transfer, please send us your current academic transcript and course syllabi by email to global@binus.edu.
APPLICATION DEADLINES