Road transport
We recommend taxi as your main road transportation. There are many taxi companies in Jakarta, the most popular one is Blue Bird Group (ph. 021-7941234; minimum charge of IDR 40,000 for telephone-booked taxi). You should not have any problem with finding taxi in Jakarta, however please bear in mind that they only accept cash in Rupiahs.
Busway / TransJakarta
TransJakarta or commonly called Busway is a bus rapid transport system or the Bus Rapid Transit in Jakarta, Indonesia. The system is modeled after the successful TransMilenio system in Bogota, Colombia. Busway Planning started in 1997 by the British Consultants. At that time the bus went against the traffic flow (contra-flow, so that the path is not being used by other vehicle), but the decision was changed in the direction of traffic because of considerations of traffic safety. Although Busway in Jakarta mimic other cities in other countries (Columbia, Japan, Australia), but Jakarta has the longest routes. Each trip costs 3500 rupiah.
Taxi
As mentioned earlier, taxi is widely available in most large cities and some smaller towns. Metered taxis are usually only found in the main cities and major tourist areas. Taxi drivers do not always know how to get to the desired destination and passengers may have to tell them. Like all public transport vehicles, taxis have yellow number plates. Some of reliable and recommended taxi companies:
Blue Bird Group: Bluebird (blue cab), Silverbird (black cab, premium taxi)
Transcab (yellow cab)
Bajaj
Pronounced as"baj-eye", it is a bright orange color tricycle scooter that has back seats for two passengers, with the driver in front. It's a popular way to get around town since they can weave through Jakarta's interminable traffic jams much like motor-bikes can. Although slow, boneshaking (suspension is not a feature in a bajaj), hot and the quick way to breathing in more exhaust fumes than you ever thought possible, riding around in these little motor-bugs can really grow on you.
Air transport
Soekarno-Hatta International Airport (CGK) is the primary airport for Jakarta and Indonesia alike. It is used by both private and commercial carriers connecting Jakarta with other Indonesian cities. It is also Indonesia's main international gateway. The airport is divided into three separate terminals. Terminal 1 serves all domestic airliners except Garuda Indonesia. Terminal 2 serves all foreign carriers and Garuda Indonesia (both domestic and international routes). The newly operational (since 2009), Terminal 3 currently houses three domestic low cost carriers (LCC), Indonesia AirAsia, Lion Air and Mandala Airlines.
Application
Besides using the public transportation, you can hail your own transport using applications such as Grab, Go-Jek and Uber. The application can be downloaded for free on Android and iOS mobile phones.
Mass Rapid Transit (MRT)
Mass Rapid Transit – Since March 14 2019, Jakarta has its first Mass Rapid Transit (MRT) system which operates daily from 5 am to midnight. The routes are between Lebak Bulus station in South Jakarta and the Bunderan Hi station (near Hotel Indonesia ) in the downtown area, a total of 15.7 kilometers.
Depending on where you live and where you want to go, you can make use of the MRT and help to make Jakarta better and free from traffic jams. See all stations and complete route here.
It also has an official mobile app (MRT-J) which contains the latest information about the Jakarta MRT and some other features. At time of writing it has a 4 star rating even though some features are not finished or accessible yet.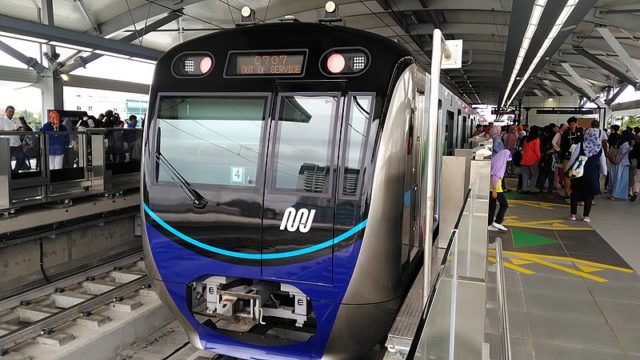 Photographs: Wikipedia, Flickr,