Delegation from University of Malaya goes on Benchmark Visit to BINUS UNIVERSITY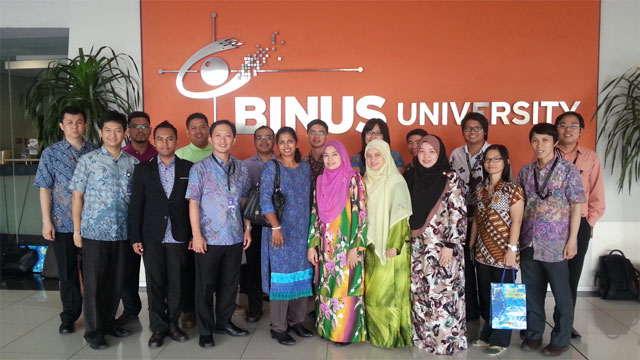 A total of 13 University of Malaya staff visited BINUS UNIVERSITY at Anggrek Campus, last Wednesday, 27 August 2014. The UM delegation, led by Ms. Kanmani Munusamy, Head of Portal Enterprise Division, Center for Information Technology, Universiti of Malaya, was warmly welcomed by Ms. Dora Subyantoro, Manager of BINUS Collaboration Center, Mr. Ivan Sangkereng, Director of BINUS IT Division along with its senior staff member. The working visit was aimed as a benchmark and sharing of issues relating to SAP implementation and IT systems application at BINUS UNIVERSITY and UM.
University of Malaya, the first University of the country, is a public university located in the southwest of Kuala Lumpur, the capital city of Malaysia. Founded in 1949, it is the foremost and premier research university in Malaysia. Universiti of Malaya and BINUS have already established strategic partnership focuses on student mobility program through the ASEAN International Mobility for Students (AIMS) Scholarship, which formerly known as Malaysia-Indonesia-Thailand (M-I-T) Program.