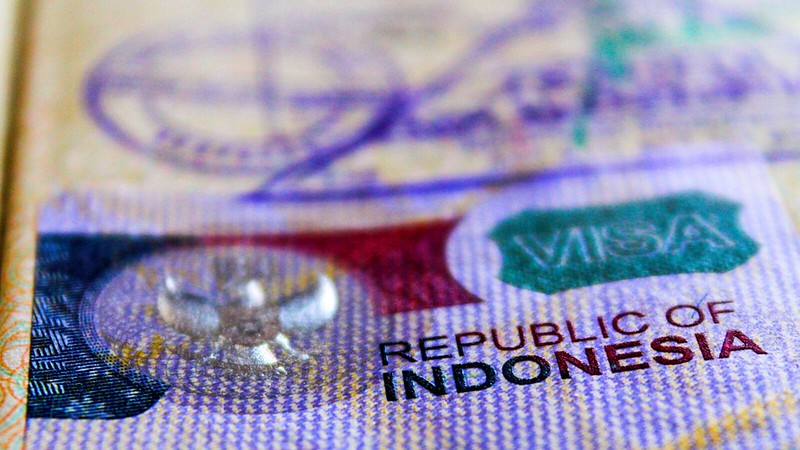 Visa is a stay permit arrangement. There are different types of Indonesian Visas available, however, international students at BINUS University must use a proper study visa: Limited Stay Permit for Study Purpose (index code: C 316) to support their stay permit during the study period.
In order to support the students' visa application, BINUS University will send all necessary documents bundled in BINUS-LoA Package to students via e-mail.
As for visa application:
To start with the visa application, students may go to their chosen Indonesian embassy/consulate as written on the TELEX. Students must also bring the TELEX, Letter of Acceptance, Visa Sponsor & Guarantee Letter along with other documents required (sometimes varies by the embassy/consulate);
If a student has double citizenship, he/she must use the passport which they submitted to BINUS University upon application earlier (also written on their TELEX). Their passport ID has been recorded by the Indonesian authorities for visa purpose;
The students should make an appointment and process their visa right away to their chosen Indonesian embassy/consulate;
Information about the Indonesian embassy/consulate locations can be found here.

DOCUMENT REQUIREMENTS
STUDY PERMIT REQUIREMENTS
1. Letter of Statement – Financial Competency*
2. Proof of financial competency (offcial letter from the bank confirming the minimum balance of USD 3,000 (for scholarship awardees) or USD 4,000 (for non-scholarship application track) in the applicant's account)
3. Letter of Statement – Regulations Compliance*
4. Medical Statement from a certified practitioner with health check and drug test (not older than 2 months)
5. Passport with validity date 30 months before arrival to Indonesia (all pages)
6. Current ITAS/ITAP for ITAS/ITAP holders
*templates provided by BINUS.
All required documents have been collected in previous stages. However, due to Covid-19 pandemic, the Indonesian Ministry of Law and Human Rights issued a new regulation regarding Visa and stay permit during new normal adaptation period.
Based on article 6 section 3, visa applicants must provide:
a. a health certificate that containing a COVID-19 free of COVID-19 statement in the English Language issued by an institution authorized by the government of the relevant state;
b. a statement letter in the English language stipulating the willingness to be quarantined and/or treated at their own cost within a quarantine facility or health facility determined by the government, if the PCR test conducted by the Indonesian health authorities at the entrance points of the state reads positive (+) or if there are COVID-19 clinical symptoms in accordance with the health protocols and the provisions of laws and regulations;
c. a statement letter of willingness for their health to be monitored during the quarantine or independent isolation period in accordance with the health protocols and the provisions of laws and regulations; and
d. a proof of ownership for a health insurance/travel insurance which includes health coverage, and/or a statement letter of willingness to pay independently should they be affected by COVID-19 in Indonesia.
*Please note that the TELEX document is officially charged per issuance per person (borne by the students, upon arrival), and shall be sent to the students' chosen Indonesian embassy/consulate.
VITAS (LIMITED STAY VISA) REQUIREMENTS 
1. Letter of Acceptance (LoA) and guarantee letter from BINUS
2. Study permit (the clearance approval from the Indonesian Ministry of Research, Technology & Higher Education)
3. TELEX visa (authorization letter from Indonesian government for you to apply the student visa)
4. Passport
KITAS (LIMITED STAY PERMIT) REQUIREMENTS
Required documents will be communicated upon arrival to Indonesia.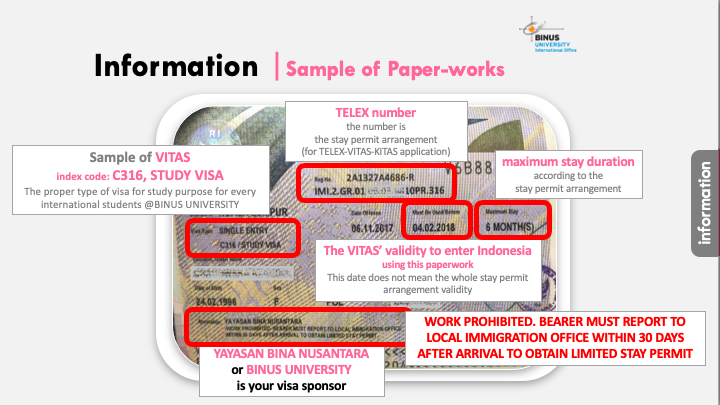 Sample of the Limited Stay Permit Visa (Visa Ijin Tinggal Terbatas/VITAS) for Study Purpose, issued by the Indonesian Embassy
IMPORTANT NOTES
Indonesian law does not allow employment of foreigners under student visa. Students must present themselves to the local governed immigration once to necessarily biometric records and obtain their KITAS.
COVID-19 UPDATE
Indonesian government is still restricting the issuance of new stay permit for foreigners, we are unable to process students' immigration documents for visa purpose. New orders or policies can be issued at any time.
VARIOUS SITUATION & CASES DUE TO COVID-19 PANDEMIC
If you are still in your home country (outside Indonesia)
Please wait for updates from us about when to start the visa process.
Our teaching-learning activities  will be conducted virtually, so just follow the lectures from your home and stay safe.
If you are from calling visa countries (Afghanistan, Cameroon, Guinea, Israel, Liberia, Niger, Nigeria, North Korea, Somalia)
The visa process will take longer, because we need to process an additional permission from the Directorate General of Immigration.
If you are already in Indonesia but having other institution as your visa sponsor
You need to change the visa sponsor; we will guide you & help monitoring the process.
If you have other type of visa (visit visa, visa on arrival)
You need to change to visa type, we will guide you & help monitoring the process.
If you have KITAP (Kartu Ijin Tinggal Tetap – Permanent Residence Permit), Ijin Tinggal Diplomatik
You still need to have the Study Permit; please submit supporting documents so we can help you processing the Study Permit.

Photo: bastamanography/Flickr
If you require any further information about visa, please contact:
International Office – BINUS UNIVERSITY
Anggrek Campus, Room 331 (3rd floor)
Jl. Kebon Jeruk Raya No. 27, Jakarta Barat, 11530
T. +62 21 534-5830 ext. 1327
E. io@binus.edu