There are number of apartments and rental options for accommodation when students study in BINUS UNIVERSITY.
For international students, we recommend and will help with arrangements for housing at our BINUS SQUARE – Hall of Residence. Not only will there be free shuttle services to our multiple campus sites, BINUS SQUARE provides excellent, safe and conducive environment for scholastic and holistic pursuits of campus life, especially for interactions of students from different backgrounds. Dedicated staff and students run activities under the following four program types: social experience, international experience, personal development, and academic development. Coaching for border activities and psychological counselling is also secured.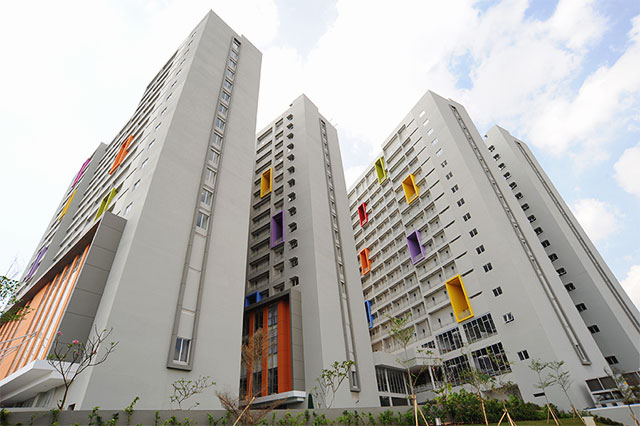 BINUS SQUARE (BSQ) is run by BINA NUSANTARA FOUNDATION since 2010 providing you with a home away from home comfort. The dormitory accommodates up to 2,500 students and visitors at a reasonable cost and in a comfortable, dynamic and safe environment. Located on a 1.4 acre plot with a floor area comprising 50,000 square meters, BINUS SQUARE Residence is a boarding complex for BINUS UNIVERSITY active students. BINUS SQUARE has 4 interconnected halls gender. Hence, male and female boarders will reside separately. Student may choose to live in a single bedroom (single occupancy) or sharing with a roommate (double occupancy).
The modern design of your room is the right style for energetic young people. All rooms are provided with:
Air conditioner
Internet access (Wi-Fi and LAN)
Electricity (with a quota of 180 kWh)
Single-size beds and pillows
Study desks/lamps, bookshelves, and wardrobe cabinets for each boarder.
Smoke detector and sprinkler
Shared bathroom and pantry (for Student Towers Area)
Students can rent this standard accommodation in the Student Towers area. A limited number of twin bedrooms with cable TV, bath amenities (en-suite bathroom), hot water, snack corner and cleaning services are also available to students in the Guest Room area. Guest Rooms can also be rented by visitors.
The following facilities are also available at BSQ:
Cafeteria with multiple vendors, coffee shop, and 24h mini-market
Gym, jogging track, and swimming pool
Laundry service; The maximum laundry weight is 21 kilograms per person, per month. Laundry weight is limited to maximum four (4) kilograms per person, per service.
Meeting rooms and games room
24h service desk and security, CCTV security
Electronic access control system
Pantry areas and bathrooms at the end of each floor
Copy center
ATM center, etc.
We also provide a shuttle system that links BSQ with BINUS INTERNATIONAL (30-45 minutes to reach BI campus). Shuttle to campuses is available for free for students with a set of schedules.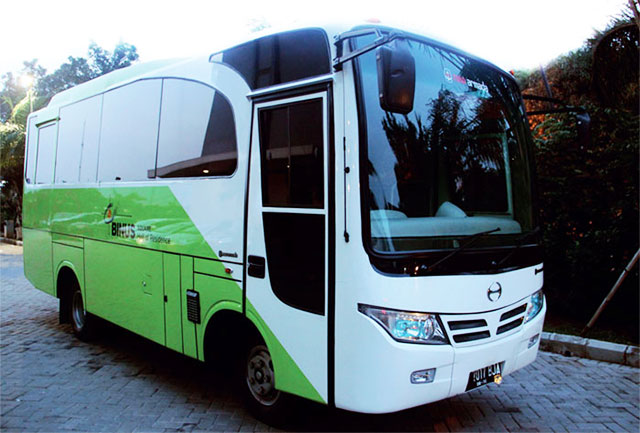 NON-RESIDENTS


*Price excluding security deposit of USD 200
*Price valid for academic year 2022/23
RESIDENTS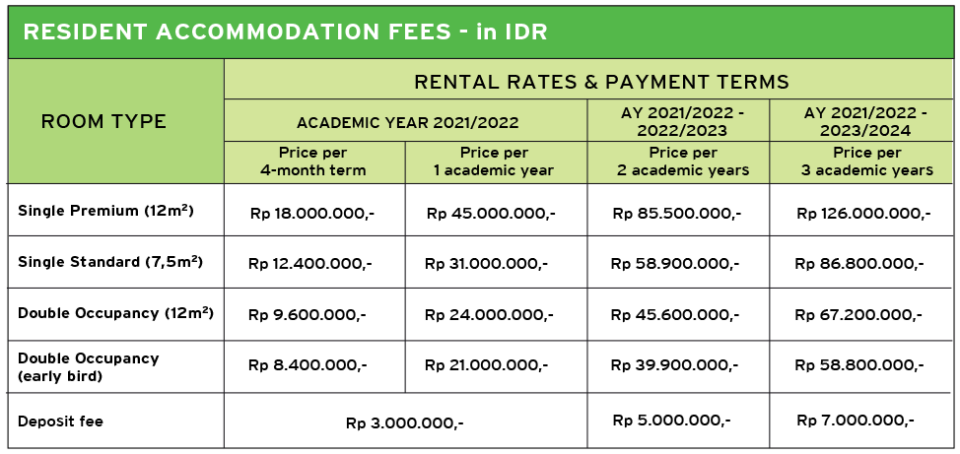 For more information about resident accommodation fees, please see here. For more information on BSQ, please visit the official website.

Off-Campus Accommodation Options
Undergraduate first-year students are encouraged to stay at BINUS Square. Apartments and student rooms known as 'kost' are off-campus accommodation types available in the residential areas around BINUS campuses. Students can rent apartments or single rooms in the dormitory pavilions and private homes. The prices vary ranging from 50 USD to 300 USD monthly.
Jakarta also has many other types of accommodation that may cater your interest and budget. Most of the local students stay in kos-kosan (shared houses). Tenants usually browse through the website:
Mamikos – This website also available in downloadable mobile apps. It offers updated price information, room availability, contact number of the boarding owner and even the owner's WhatsApp number, along with an interactive map which can help you search the nearest property available to campus area.
If you are looking for an apartment instead, you can browse your preferred property through this website:
Travelio – an online short to medium term home rental operator. The types of accommodations available ranges from apartments and villas, to houses and "kost".
Flokq – Flokq is an application and website to find mid-range and premium boarding houses around Jakarta area. They have hundreds of apartment options available for rent. Tenants are also able to contact the host and rent apartments or houses montly, or yearly.