Two Degree Program: BINUS UNIVERSITY & The University of Newcastle, Australia
One study program fully delivered in English at BINUS UNIVERSITY, Indonesia.

Two 

AACSB accredited

university awards from Indonesia and Australia.

Three global networks of influence to boost your employability from BINUS UNIVERSITY, University of Newcastle, Australia, and Goal Business Education.

Study for 4 years in Indonesia, or

take part in the immersion, exchange, and semester abroad programs, with transfer option to Australia.

 

Goal Business Education mentoring support

.

Local tuition fees and living costs: Save up to 50% * 
* Living cost depends on lifestyle.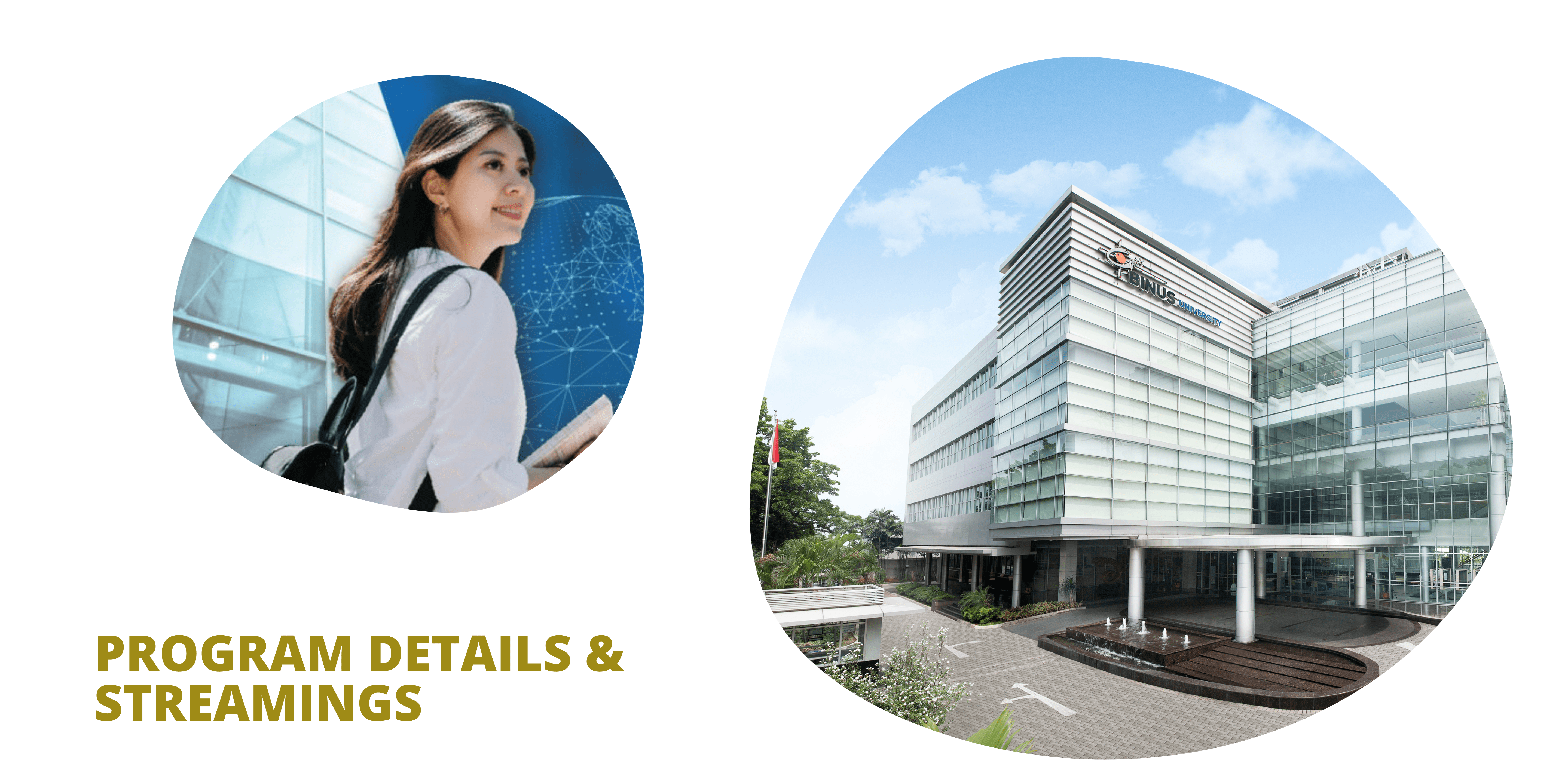 This unique program allows students to gain two degrees through completing one program of study delivered entirely in English at the BINUS Business School in Jakarta. In the first part of the program, students undertake courses through BINUS and Goal Business Education. In the second part of the program, students undertake the University of Newcastle courses taught at BINUS.
Upon satisfactory completion of all course requirements, students are awarded a degree from the University of Newcastle, Australia and a degree from BINUS UNIVERSITY. 
Two-Degree Program Options: 
Major
Streaming
Title
Curriculum
Business Management and Marketing
Innovation &

Entrepreneurship

S.E. & BBus
Read here
Business Management & Marketing
S.E. & B. Com

Finance
Finance
S.E. & B. Com

Read here
International Business
Innovation &

Entrepreneurship

S.E. & BBus
Read here
*S.E. is Bachelor of Economics, awarded by BINUS UNIVERSITY


Entry Requirements for BINUS UNIVERSITY
English language: From IELTS 5.0 or an equivalent International English language test score. Students with IELTS 5.0 will begin their program with a Pre-sessional English course.
Academic: Completion of the Grade 12/ A level/ IB Diploma or equivalent, and entrance test.
Progression Requirements for the University of Newcastle
English language: IELTS 6.0 (all band) or equivalent international English language test score by the end of year 2 of their BINUS UNIVERSITY program.
Academic: Completion of selected courses across Year 1 and 2 of the BINUS program. Students who have not completed the required courses and/or the number of credits must successfully complete these prior to admission to the University of Newcastle program, or provide other evidence of completion of the required course units and the required level.

We offer competitive tuition fees while delivering high-quality education.

Tuition fees for our full degree programs are available here.
Scholarship
We also offer an exciting scholarship for high-achieving international students that helps towards your tuition fees and other additional benefits. Please check our scholarship information page here.

Accommodation
Most of our international students live in our BINUS Square Hall of Residence (BSQ), which offers a one-stop living quarter for students. BSQ provides on-site facilities that vary from game room, sports facilities such as gym and swimming pool, common rooms and lounges, cafeteria, convenient stores, and many more. Dedicated staff and students run various social activities too. Coaching for border activities and psychological counseling is also secured.
Find out more about our accommodation options here or visit the official BSQ website here and have a virtual tour of our accommodation.
Students Life
Visit our online magazine Hiveindo and catch a glimpse of our students' stories.