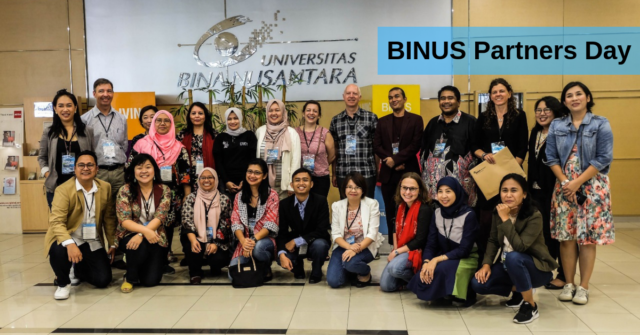 On 23rd March 2019, BINUS UNIVERSITY hosted 'Partners Day', an event that aimed to strengthen the institutions' relationship with selected international university partners. The universities that attended included:
Saxion University of Applied Sciences – Netherlands
UCSI University – Malaysia
Rennes School of Business – France
Appalachian State University – USA
Nagoya University of Foreign Studies – Japan
HAN University of Applied Sciences – Netherlands
Queensland University of Technology – Australia
Universiti Utara Malaysia – Malaysia
UC Berkeley Extension – USA
Universiti Tun Abdul Razak – Malaysia
The guests were shown a short presentation on BINUS UNIVERSITY's history, achievements, and the various courses available for international students. Furthermore, the event featured a sharing session where all stakeholders involved were given the opportunity to network, discuss ways to improve the transnational programs on offer and explore new funding strategies for various mobility programs such as internships and research.
BINUS UNIVERSITY also provided a campus tour as well as a batik workshop through which guests were able to try designing their own batik motifs in addition to learning its ancient heritage and importance in Indonesian culture.
Through this event, BINUS UNIVERSITY has illustrated its capacity to be a highly-proficient partner by leading international higher education institutions. Such partnerships are essential in providing students full access to an education system that supports creative minds keen on leading major academic and industry breakthroughs.
Last updated :